Which SUP Paddle Should I Buy?
Stand up paddle boarding is a fantastic sport with lots of different kinds of paddle boards and accessories. It's easy to feel lost in the endless stand-up paddle board products and their variations.
If you've made it to the point where you want a better SUP paddle or you need another one you probably already own a paddle board or are about to buy one so you know how much is out there.
When it comes to the paddles it doesn't matter if you have a solid (SUP) or an inflatable (ISUP) stand up paddle board the paddle will be the same for either.
The only two activities that require a different paddle off-set degree, SUP surfing, and racing. But even those are pretty close to the same.
See Also: Best Inflatable Paddle Boards (ISUP) for Beginners
For novice stand-up paddlers such as myself, there are a few all-around paddle variations you can choose from for a more custom feel. The first being the shape of the paddle.
There are two main kinds, rectangle (flat) or tear-drop (rounded). The rectangular shape has less surface area and doesn't move as much water. It's better for easier paddling but you have to paddle more to get from point A to point B than those with a rounded paddle.
The tear-drop or rounded paddle has more surface area and moves more water with every stroke. You have more power and can get further with fewer stronger paddles.
This list has paddles for the average all-around stand-up paddle boarder who is looking for either a better paddle than the one their paddle board came with or an extra.
Blade Material
40% Fiberglass 60% Polypropylene
12K Carbon Fiber w/ Bamboo Veneer
Note: Scroll left/right on tablets and phones
SUP Paddle Reviews & Info
---
First up is the Abahub 3-piece Aluminum Alloy stand-up paddle board paddle. I want to review this paddle first because it is the most budget-friendly and a good choice for people who want an extra paddle.
A lot of ISUP's come with paddles like this one, and chances are it's not going to be an upgrade from the one you already have. But it's a great choice for a back-up.
Even though this SUP paddle is budget-friendly is still a solidly built product. The shaft is made with an aluminum alloy which is a common material for SUP paddles because it's light, doesn't rust, and durable.
It breaks down into 3 pieces the longest being 34.5 inches, it's super portable. The entire paddle weighs only 36 oz (2.25 lbs).
Normally aluminum paddles will float for a few minutes then fill up with water and sink. Abahub solved this problem by adding stoppers in each piece so no water can get into the shaft.
So it will float, which is a nice surprise for this range of SUP paddle.
See Also: Outdoor Master Shark Electric 20 PSI Pump Review & How To Use
The stand-up paddle is adjustable using an anti-twist clamp and can go from 68-84 inches.
As a quick guide for choosing the length of SUP paddle, a good size is 8-12 inches more than your height. For more information on choosing the right length of paddle, check out the FAQ below.
The blade is 40% fiberglass and 60% PP (polypropylene), 18.5 inches long, 8.2 inches wide, has a 10-degree blade angle (perfect for all-around paddling), and has a reinforced grove.
It's a solid build and has a flat tear-drop shape, basically a hybrid.
If you will be touring or paddling for a long time a lighter paddle will be a better option but the Abahub 3-Piece Aluminum SUP Paddle is a solid choice for beginners or a backup.
My first ISUP came with a paddle just like this one and it performed fantastically for a leisurely paddle around the reservoir.
PROS
Budget-Friendly
Floats
Water Tight
---
The SUP Supply Paddle is another budget-friendly Aluminum Alloy stand-up paddle with a few key differences from the Abahub 3-Piece Aluminum SUP Paddle.
The shaft of the paddle is made with Aluminum Alloy, which is a durable, light metal that can hold up against water erosion.
As a side note salt water breaks down any metal faster than fresh and if you are paddling in the ocean make sure to completely wash off the paddle after.
The SUP paddle can break down into 3-pieces quickly making it very portable and easy to stow away in a backpack or ISUP bag. It weighs 34 oz (2.1 lbs).
It adjusts from 67 – 85 inches using a push button to change the height. Because the paddle shaft is full of holes they have filled it with foam so it can still float when dropped in the water.
It's a neat idea and a cool trick to make it so the paddle still floats.
See Also: Best Hand Pump for Inflatables (Boat, Kayak, and ISUP)
The blade is made with heavy-duty polypropylene with a rib running down the middle to make it super sturdy. The shape is another hybrid flat tear-drop. The perfect all-around blade shape.
The SUP Supply Stand-Up Paddle is another great basic SUP paddle. If you are trying to decide between this one and the Abahub 3-Piece Aluminum SUP Paddle the biggest difference between them is the type of clamp they use for the height adjustment.
The no-twist style the other paddle has is easy to use and doesn't add extra holes, but it can slip sometimes and the bolts keeping it tight can loosen over time and even fall out.
The stainless steel push-button style is a great idea because it's more solid but it adds holes to the paddle which makes it easier for water and dirt to get in.
I like how the other one is watertight but SUP Supply fixed the obvious problem with lots of holes by adding foam.
You will have to decide which kind of budget paddle is right for you. Either will get you out paddle boarding on the water and that's what's important.
---
The best material for stand up paddle board paddles is Carbon Fiber and the BPS SUP Paddle is the first Carbon Fiber paddle in this review.
Carbon Fiber has become an extremely popular material to make things out of because it is incredibly strong, durable, and very lightweight. It's a great choice for stand-up paddles because it will not rust.
The Carbon Fiber BPS SUP paddle weighs only 29 oz (1.8 lbs). This is partly because it's made of carbon fiber but also because it's only a 2-piece paddle. The fewer the parts the lighter the paddle will be.
Because it only breaks down into 2 parts it's not quite as portable as the 3 piece SUP paddles but it comes with a high-quality bag for easy transport and has waterproof reflective lining for protection.
See Also: Best Waterproof Bluetooth Speakers For Boats, Kayaking
The shaft adjusts from 71-84 inches and uses an anti-twist adjustable pop out clamp. The handle does have holes for adjustment but the SUP paddle is guaranteed to float.
The blade is made of durable nylon and has a concave angle combined with a tear-drop shape for even more power when paddling.
Now we're getting into the more advanced paddles that are great for everyday paddlers or paddle board surfers. This paddle is fantastic for long tours because it is light and you get the most out of every paddle.
The BPS 2-Piece SUP Paddle is a great option if you are looking for an upgrade from the SUP paddle that came with your board.
BPS is a great company with excellent customer service and a 12-month guarantee. To top it all off they have a variety of accent colors to choose from to fit any taste or match any SUP or ISUP.
PROS
Carbon Fiber Shaft
Floats
Comes with bag
Lightweight
Angled Blade
---
This second carbon fiber SUP paddle is another great mid-range product. It's lightweight at only 35.5 oz (2.1 lbs) and very durable.
The shaft can adjust from 69-86 inches using a clip cam lock. There are no holes in the shaft so it will float better and longer than other stand-up paddles.
The blade is made of nylon composite with a rib going down the middle to make it stiffer and more durable. The unique thing about this SUP paddle blade is the pattern.
Usually to get patterns and cool graphics you have to buy paddles in the higher price range, but this one is reasonably priced and looks awesome.
It breaks down into three pieces quickly and easily using stainless steel push buttons. The longest part is only 35 inches long. It's very portable and can fit in any ISUP bag.
See Also: Best Slim Inflatable Life Jackets (PFD)
The blade is a rounded tear-drop with a 10-degree angle for more powerful paddling. A feature that is common for more advanced SUP paddles.
The WOOWAVE SUP Paddle is another great choice if you want to upgrade your stand-up paddle board paddle.
It's worth it for people who paddle board often and it doesn't break the bank to the point you feel like you have to go out every day to get your money's worth.
It's lightweight for more comfort when paddling for long amounts of time. And it has a unique blade pattern that stands out from other SUP Paddles.
All-in-all it's a great paddle that will last for years of stand-up paddle boarding.
PROS
Carbon Fiber
No holes in the shaft
Lightweight
Angled Blade
Floats
---
Last but not least, the best of the bunch, we have the Super Paddles Elite 12K Carbon Fiber SUP Paddle.
There aren't many SUP paddles on the market like this one, and it certainly deserves some praise.
Super Paddles makes a lot of SUP paddles and their Elite series are some of the best you can buy.
My favorite version is the one with the bamboo veneer because it looks so unique. Like a real wooden paddle without any of the weight.
You can also get this SUP paddle in black (click to view on Amazon) if you prefer.
What makes these SUP paddles better than the rest is their extreme lightness. It only weighs 24 oz, that's 10 oz lighter than other carbon fiber paddles.
How did they achieve this? They made the blade with carbon fiber instead of the standard nylon.
Because the blade is carbon fiber you get a durable stiff blade that is ultra-lightweight. The shape is a flat tear-drop with a double concave face to keep the paddle from wobbling in the water.
It also has a 5-degree angle for gentle but powerful paddling.
See Also: Best Coil Leash For Stand Up Paddle Boards (SUP)
The SUP paddle breaks down into 3 pieces held together by stainless steel push buttons. It adjusts from 72-86 inches. The adjustable handle is secured with an anti-twist clip clamp that requires no holes in tube of the paddle.
The shaft is made up of solid pieces and it floats.
Included with the Elite SUP Paddle you get a nylon padded bag that has 3 compartments to protect every part of the paddle.
It also has an aluminum inner lining to protect it from heat.  Once all the parts are stowed away in the bag it's only 41 inches long, making it easy to carry around and travel with.
The Super Paddles Elite 12K Carbon Fiber SUP Paddle is a huge upgrade from the average stand-up paddle board paddle and will keep you comfortable paddling all day long.
You won't find a more durable lighter SUP paddle than this and a bamboo veneer is a fantastic option for a little extra flair.
Super Paddles backs up their products with a 12-month guarantee so there's peace of mind when you buy from them. High-quality materials and excellent engineering are all things you get with the Elite SUP paddle.
When you spend so much on a SUP or ISUP it's nice to have a paddle to match the quality. This is an excellent choice for anyone who has a love for stand-up paddle boarding and wants the best SUP paddle out there.
PROS
Ultra-Lightweight
Bamboo Veneer Option
Bag Included
Floats
12K Carbon Fiber Shaft
12K Carbon Fiber Blade
Double concave blade
---

My Recommendation For Best Stand Up Paddle Board Paddle
Super Paddles Elite 12K Carbon Fiber SUP Paddle
I have to hand it to these guys, Super Paddles really have one of the best SUP paddles on the market today. It's durable yet very lightweight and comfortable even when paddling for hours on end.
The double concave blade makes every paddle a solid powerful move that propels you forward better than other blade designs.
There are not added holes in the shaft for the adjustable handle which I like because it keeps water out of the paddle and clean on the inside.
The bag is a fantastic addition and a great way to store the paddle especially if you have a solid SUP or want more room in your ISUP bag.
You get what you pay for and the Super Paddles Elite 12K Carbon Fiber SUP Paddle is an investment.
You get an awesome paddle to match your awesome stand-up paddle board so you can enjoy them both for years and years even if you paddle in salt water.
If you want durability and quality Super Paddles Elite series of SUP paddles is the way to go.
---
What To Consider When Buying An SUP Or ISUP Paddle
Adjustable Length
When fitting a stand-up paddle board paddle to you, length matters. Most people prefer adjustable SUP paddles because they can change the length to fit their height and preference.
It's also nice because sometimes you want a shorter paddle when you are doing things like paddle board surfing.
To size a SUP paddle to you, stand with your paddle in front of you with the blade on the ground. reach your hand up, if you can bend your wrist and rest the bent part on the handle of the paddle that the exact length it should be for everyday paddling.
There is an industry standard that says the paddle should be your height plus 8-12 inches but considering different arm lengths it might be different for you.
Blade Shape
There are two main SUP paddle blade shapes, rectangular and tear-drop. Rectangular is flat at the end of the blade and is good for quick easy strokes.
The flat end doesn't push as much water as the rounded tear-drop one so you don't move as much water with every paddle making it easier but less powerful.
The tear-drop blade bulbs out at the end and is rounded. This shape is good for slow powerful strokes. The rounded end has a lot of surface area and moves more water. You will get more out of every paddle but it will take more effort.
Shaft Material
For the most part, you will find that the shaft of stand-up paddle board paddles are made with aluminum, fiberglass, or carbon fiber. Each material is very different in weight, durability, and properties.
Aluminum is lightweight and stiff but breaks down over time.
Fiberglass is lighter and holds up against the elements better than aluminum but slightly less rigid.
Carbon fiber is more lightweight, rigid, and durable than aluminum and fiberglass but tends to be more expensive.
When choosing an SUP paddle you need to think about how often the paddle will be used and for how long. Sometimes it's worth giving a little extra for a more comfortable and durable material like carbon fiber.
Other times you just need a simple paddle for the occasional outing, that's where fiberglass or aluminum is a good choice.
Weight
As I mentioned with the shaft material the higher end SUP paddles weigh a lot less than others.
Weight is important because a heavy paddle wears you out faster.
You may not feel the difference in the first 30 minutes but the longer you paddle the more you will feel the difference a lightweight paddle can make.
If you travel with an ISUP every ounce can make a difference. Getting a SUP paddle made with lighter materials like fiberglass or carbon fiber can keep you from going over weight limits.
Size
You can buy SUP paddles that are 3, 2, and 1 piece. Usually the fewer the pieces the lighter and more buoyant the paddle, but the harder it is to transport.
A lot of paddles that come with ISUPs only break down into 2 pieces and they still fit in the bag with the board, but they sometimes just barely fit.
A 3-piece SUP paddle is nice because it can break down to short lengths that are easy to transport or fit into a small bag. Some even come with a carry bag making them even more convenient.
Adjustable Handle Clamp Style
This is often overlooked but I can't tell you how many times I've been frustrated by a cheap clamp that won't keep the handle of the paddle from sliding down.
A good solid clamp is important so you can adjust your paddle and go with no issues.
It's hard to paddle when things are sliding around. Make sure the clamp is decent and can take the pressure.
Saltwater
Saltwater is the slow and silent killer of any material. If you are going to paddle boarding a lot on the ocean or saltwater it's a good idea to get an SUP paddle made of fiberglass or carbon fiber over aluminum.
You should also always wash off your SUP paddle and board after being in saltwater no matter what they are made of to keep them looking new longer and stop any damage over time.
---
Frequently Asked Questions About SUP Paddles
Which way does a SUP paddle go?
Most SUP paddles have a slight offset or angle on the blade. You want to paddle like you are scooping water.
If you are holding the paddle like you are about to dip it into the water the angle should be going away from you so more water will be moved by the blade.
You can see in this picture how the angle of the SUP paddle's blade is going away from the person paddling.
This also keeps the paddle steady in the water. If you paddle with the blade facing the wrong way it will wobble in the water.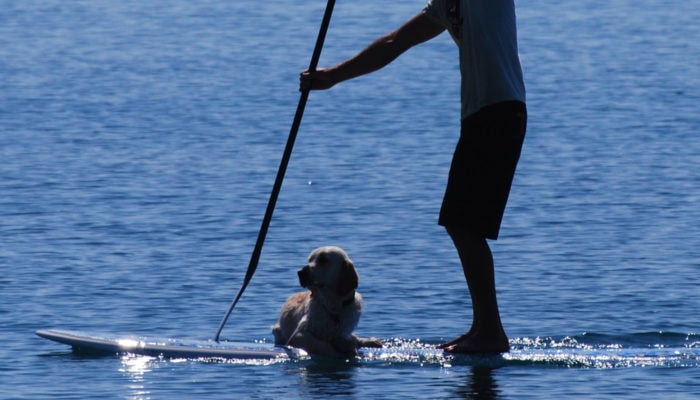 Some stand-up paddles are straight and have no angle, any side of these kinds can be used. Just use the side that feels the most solid in the water.
For a short informational video on how the blade should go into the water click here.
How do I hold a SUP Paddle's handle?
The handle of a SUP paddle or "T-Grip" is usually has a deeper section. On a lot of stand-up paddle board paddles, the adjustable part used a push-button so the handle can only go one way.
If the blade is going into the water correctly the grip should be facing the correct way.
Some SUP paddles have an adjustable handle that can twist freely so you don't always know what way the grip should face.
The correct way is to have the deeper part of the handle facing away from you so your fingers can grip around it. As shown in the pictures below.

What size or length of SUP paddle should I get?
Stand-up paddle board paddles come in all shapes and lengths.
Luckily choosing the right size of a paddle for you is the easy part. The blade sizes don't vary a ton but as a rule of thumb the bigger you are the wider the blade should be, but even that doesn't matter a lot.
The most important thing is to get a SUP paddle that is the right length. Most paddles are adjustable and when you buy one make sure you get one that is your height plus 8-12 inches.
If you are buying a fixed paddle or have extra long or short arms and want to make sure the paddle will fit you can measure.
Stand on the ground and raise your arm above your head. You should be able to bend your wrist and rest the bent part on the grip of the paddle.
So if you are measuring measure from the ground to the wrist of the raised arm. This should get you the right length of SUP paddle.
What size SUP paddle blade should I get?
The size and shape of a SUP paddle can change how much power you get with every paddle.
Smaller people have an easier time with more narrow blades while larger people need wider blades because they need more power to go the same distance as a smaller person.
This being said it also depends on your paddling style. Some people prefer a wide powerful blade with a tear-drop shape for slow strong paddles.
Others prefer more narrow blades with flat ends and a rectangular shape for quick easy strokes. It all depends on you and what you prefer.
What is the best SUP paddle for surfing?
For stand-up paddle board surfing, you want the most power you can get with every movement.
A wide SUP paddle with a tear-drop shape is going to be the best option for you. Tear-drop shaped paddles have more surface area and move more water with every stroke.
If you are SUP surfing you want the power to glide over waves and choppy water.
You also want your paddle to be able to adjust shorter than you would normally have it for more power as well.
A lot of paddles have an off-set or angle. Paddleboard surfers want a steep angle or none at all. A 5-degree angle is the best for SUP surfing.
See Also: Best Inflatable Paddleboards (ISUP) For Surfing
How to paddle a SUP?
There are lots of ways to paddle around on a stand-up paddle board but the most important thing is to do what feels the most comfortable for you.
Make sure you have the angle of the SUP paddles blade pointed away from you and you are gripping the handle with the deepest part facing away from you for your fingers to wrap around.
Let the other hand grip the shaft of the SUP paddle where it feels comfortable. The blade doesn't need to be completely submerged in the water when you paddle and you don't need to overextend your body.
Just take it nice and easy and do what feels right for you.
As a small side note the only thing you need to worry about is the blade of the paddle hitting the sides of your SUP or ISUP.
Rubbing the SUP paddle against the board will wear it down over time and scratch an epoxy board or cause your inflatable paddle board to get a leak.
How to hold a SUP paddle correctly.
If you scroll up in the FAQ section of this article pictures are showing how the blade should point and how your grip should be.
If you have these two things correct all you need to do is place the off-hand on the shaft of the SUP paddle in the right spot.
To make sure both your hands are the right distance apart grab the SUP paddle and hold the grip with one hand and the center of the shaft with the other.
Lift the paddle above your head and slide the hand holding the SUP paddle shaft the correct way so your elbows are both at 90-degrees. This is the correct distance for your hands to be when holding and SUP paddle correctly.
For a more detailed article on holding a SUP paddle correctly and how to paddle a SUP click here.
How to make a SUP paddle float.
A lot of higher-end SUP paddles float and but a lot of times the paddle that came with your board does not. Or it will float for a few minutes then sink.
You don't want to lose an SUP paddle so if yours doesn't float there are a few things you can do to help it out.
The first thing you can do is fill the paddle with foam. You can either use pieces of foam insulation and stuff it into the SUP paddle or some people even use spray foam (click to view on Amazon) to fill the paddle tube.
Another thing you can do is plug each piece of your paddle to make it watertight.
The air inside the paddles tube should keep it afloat. I used a glob of waterproof silicone (click to view on Amazon) to plug up each piece of my 2-piece paddle to help keep water out.
A really good thing to use even if your paddle floats is a paddle leash (click to view on Amazon).
Just secure it to your paddle and clip it to your life jacket or board and you won't have to worry about losing your paddle.
It's especially nice to have if you are whitewater stand-up paddle boarding or even just paddling on a river. The current can quickly take your SUP paddle far from you and you will find yourself up a creek without a paddle.
Have any more questions about SUP paddles? Leave a comment below.