Disclaimer: This electric SUP pump was sent to me by Master Outdoor to test for free. Since receiving it, I've put it to the test, and I am reviewing this pump honestly and thoroughly.
Is An Electric SUP Pump Worth It?
For me, the answer is, yes. There is no question that electric pumps are worth it when it comes to inflatable paddle boards and kayaks. I spent years inflating my ISUP by hand every time I wanted to go out on the water, and it got old real fast.
It's not that you can't inflate paddle boards and kayaks with hand pumps, it's just that it's a lot of work no matter how many actions or chambers the hand pump has. The thought of having to do 20-30 minutes of intense cardio before getting out on the water has been enough to keep me from paddle boarding after a long day more times than I care to admit.
See Also: 10 Things To Know Before Buying An Inflatable Paddle Board
That's what makes electric SUP pumps so great. A good SUP pump will be able to do the inflating for you from beginning to end. A great SUP pump will also be able to deflate which is not a feature that should be looked over because it can take a little work to get all the air out of an ISUP so it can be rolled up and packed away.
Now that I've shared with you why you should get an electric SUP pump, here is my review of one of the top pumps on the market today, the Outdoor Master "Shark."
Let's start with everything you get and the different specifications of this electric SUP pump.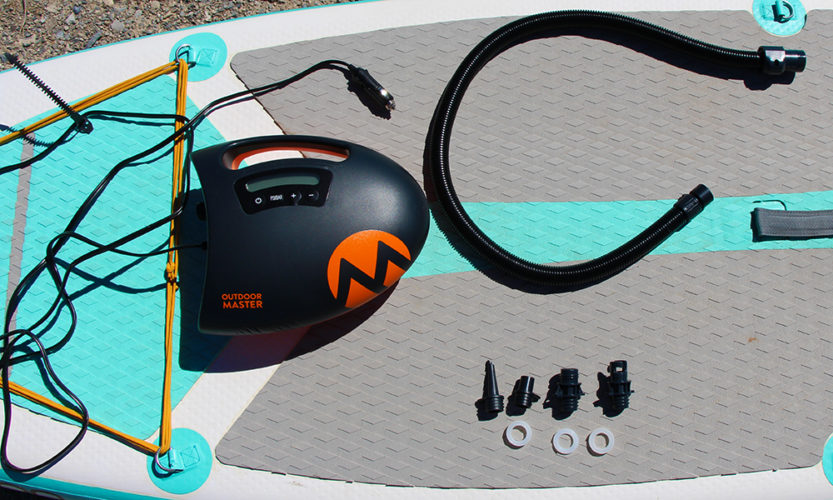 What's In The Box?
One small thing that pushes "The Shark" by Outdoor Master ahead of other SUP pumps is the included adapters.
There are 4 different kinds. Two are different sizes of regular air taps which can be used on regular inflatables like tubes and air mattresses.
One is the standard H3 or "Halkey Roberts" which is the standard valve used on most inflatable paddle boards. The 4th adapter is a C7 valve which is commonly found on rafts, inflatable kayaks, and certain brands of SUPs.
There are also 3 sizes of rubber gaskets (o-rings) included for a perfect seal on different H3 or C7 valves.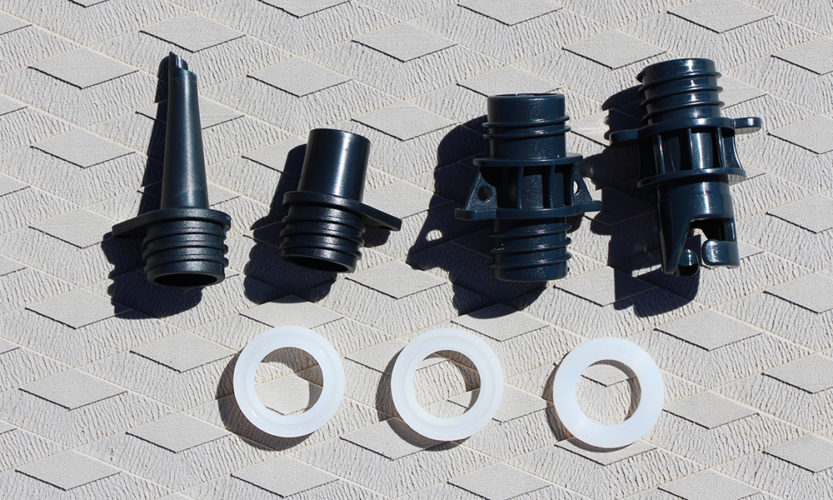 It may seem like a small feature, but being able to use your electric pump with more than just an SUP makes it that much more worth it.
Aside from the adapters, you get an instruction manual, a surprisingly thick 3 foot 7 inch air hose, and the electric SUP pump that has a 10 foot power cord with a 12V plug on the end.
The SUP Pump
The Outdoor Master electric SUP pump (click to view on Amazon) also known as "The Shark" is a uniquely shaped, 2 stage air pump with a digital display and a built in cooling unit.
Both the shape and the built in fan are the two things that make this electric SUP pump very different from the others.
Most electric SUP pumps can only handle up to 15 minutes of continuous use or inflating one ISUP at a time with 30 minutes of rest in between. Because of the built-in cooling feature "The Shark" can handle up to 30 minutes (2 paddle boards) of continuous run time with only 10 minutes of rest in between.
This is according to the Master Outdoor instruction booklet for getting the maximum life out of your SUP pump. I'll talk more about my own findings in my review section below.
See Also: Best Slim Inflatable Life Jackets (PFD)
If you are researching high pressure air pumps that can handle up to 20 psi, like "The Shark," you have likely read a few things about pumps with multiple stages.
Two stage air pumps like this one have an initial high volume stage that puts out as much air as possible until the pressure gets so high that it needs to gear down and start putting out a slower but more powerful air flow.
A two stage pump is likely to have a longer life than a single stage one since the first stage isn't as hard on the hardware. A two stage air pump is also quieter as it doesn't need to get really noisy until it kicks into the second stage.
On top of the electric SUP pump is a digital display with four buttons: power, PSI/BAR, plus, and minus.
The way this SUP pump works is you select the proper PSI for the inflatable you have it hooked up to, the pump will then start inflating until the selected PSI has been reached, then it will automatically turn off. You will also be able to watch the current PSI in real time as the pump inflates.
The buttons are easy to press, simple to understand, and the screen is easy to see even in daylight.
The inflation inlet and deflation outlet are both located on the end of the pump where the power cord is. They are both labeled but if you have any questions as to which is which simply start the pump and you will be able to feel which one is pulling in air and which is putting out air.
On the bottom of the electric SUP pump is the air inlet and the air outlet for the internal cooling system. The inlet is the vent on the nose and the outlet is the vent on the very bottom. Both have sand filters but it's still recommended to place the pump on a clean, flat surface for best results.
There are also foam feet on the bottom of the board. If you place the pump on concrete or pavement the feet will wear off quickly so it's recommended to put the pump directly on your SUP as its being inflated.
After you've inflated your SUP it's recommended to leave the pump plugged in for a few minutes to allow the fan to continue to run and cool down the pump internally.
There is a built in plastic handle on the body of the pump you can use to carry it around. The entire thing measures around 11 inches long, 9 inches wide, and 5 inches tall. It's very light, weighing only 3.5 lbs or 1.6 kilos.
"The Shark" can inflate up to 20 PSI and also deflate.
---
How To Use "The Shark" Master Outdoor SUP Pump
For a high pressure pump that is capable of inflating up to 20 PSI The Shark SUP Pump (click to view on Amazon) is fairly simple to use.
First, you need to choose the correct adapter for the thing you are going to inflate. All the adapters are pretty different so it shouldn't be too difficult to figure out which one will work.
For reference, the Halkey Roberts valve, which is the most common on an ISUP, is the one with the little arms that lock into the valve on your board. The C7 valve is the one with threads that twists on.
If you are using the H3 or the C7 you are going to need to use one of the 3 plastic gaskets or washers that were included to get a good seal.
They are all different thicknesses so choose the one which is tight enough to not let any air out but not so tight that you break anything. The gasket will go on the end that connects to the inflatable.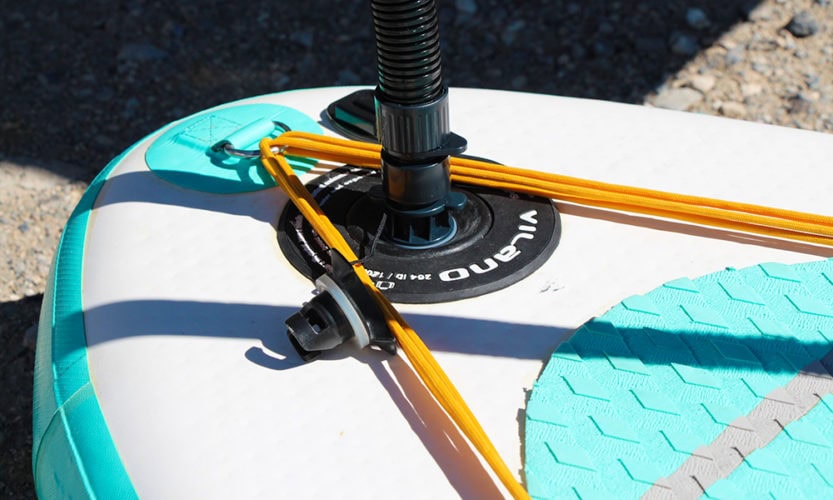 The air hose that comes with the SUP pump has two kinds of ends on it.
One end has a thicker collar of plastic that twists much like what you will find on a garden hose, this end will be attached directly to the pump. The other end attaches to the adapter which will attach to your SUP or inflatable.
See Also: Best Waterproof Bluetooth Speakers For Boats, Kayaking
Now it's time to power it up. It is a 12V pump so you are going to have to plug it into your vehicle's 12V outlet or a regulated 12V outlet on a power station or generator.
When inflating, it only draws up to 110W. Using a power station with a regulated 12V outlet like the Jackery 500 is an excellent way to make your paddle board set up more portable or even solar-powered. You can check out this awesome review of the Jackery 500 here.
If you connect the electric SUP pump to your vehicle I recommend having the engine running, this will ensure the pump is getting all the power it needs and it will keep the battery from getting too low. I've read some complaints about "The Shark" being way slower than using a hand pump.
This wasn't true for me at all and I believe people who are experiencing that problem may not have the engine running or there may be something wrong with the 12V outlet the SUP pump is connected to.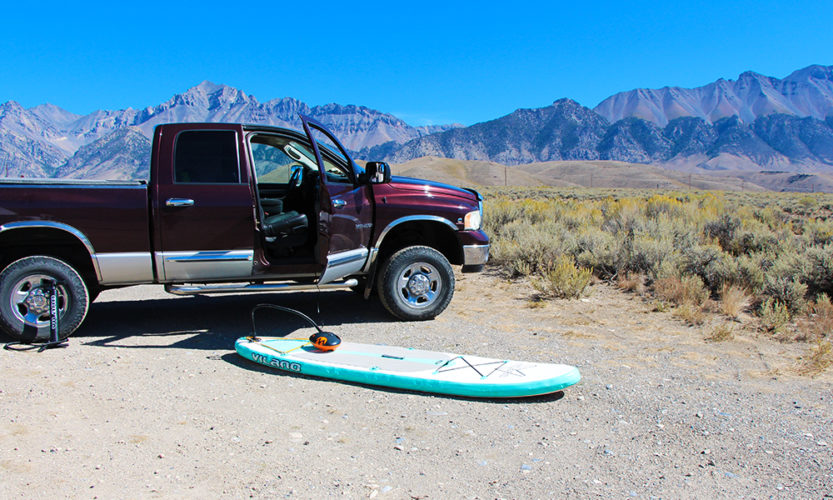 Once you plug it in, the LED display will light up and wait for you to choose a PSI setting. You do this with the + and – buttons. If you prefer BAR as your unit of measurement you can switch to it by pressing the PSI/BAR button.
Once you've selected your PSI or BAR you can press the power button to start the pump. If you are inflating something you don't know the proper PSI for, like a tube or small air mattress you can turn the pump off at any time by pressing the power button again.
You can also adjust the PSI while the pump is running by pressing the + or – buttons.
Once the pump has reached the chosen PSI it should automatically shut off.
See Also: 5 Tips For Storing Your Paddle Board Or Kayak Inflated
I recommended keeping an eye on the pump the first few times you inflate something to make sure everything is working properly. I also suggest using the hand pump your SUP came with or some sort of pressure gauge to make sure the pump is inflating to the right PSI.
When deflating you don't need to worry about choosing a PSI, just connect the hose to the deflation inlet and press the power button to start the pump. You must turn off the pump manually in the deflation mode as there is no automatic shut off for deflation.
---

My Review Of "The Shark" SUP Pump by Outdoor Master
I rarely paddle board alone, which means I need an electric SUP pump that can handle inflating at least two paddle boards quickly.
When doing my tests I wanted to really put "The Shark" by Outdoor Master (click to view on Amazon) to the test.
I'd read some reviews about it overheating or not being able to inflate an ISUP from 0 PSI to 15 PSI and I wanted to make sure everything was working "as advertised."
My first tests were simply making sure the pump ran well when plugged into a vehicle's 12V outlet while the engine was running.
The SUP pump was able to fill my 10 foot 6 inches long, 30 inches wide, and 6 inches thick ISUP from 0 PSI to 15 in 6 minutes and 20 seconds when plugged into my truck.
Much better than expected. I also tested the deflation function right after inflation and that worked fantastically too.
The first step of the pump is really fast. It inflated my paddle board to 1 PSI in under a minute. Then the second, louder stage kicked in and did the rest.
My next tests were to see how well the electric SUP pump performed in regular conditions. That means inflating 2 ISUPs under the hot midday sun.
Now, Outdoor Master does not recommend using the pump in temperatures above 95°F. According to my outdoor thermometer, it was 80°F in the shade. But most of the time I am inflating my paddle boards in the heat of the day on a rocky beach much like the one I was doing my tests on.
I put the temperature sensor out by the pump and by the time I was done filling both of my paddle boards the thermometer read 100°F.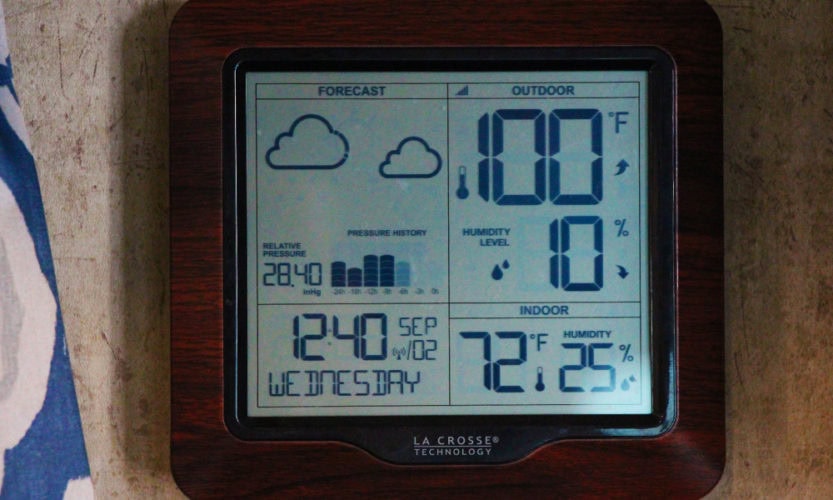 Because of this, I recommend trying to keep the pump in shade as much as possible. The longer the pump operates in hot conditions the more damage is done to the insides. It was ok for my testing but for regular use, will be trying to keep it shaded as much as possible.
I like to inflate my paddle boards to 14 PSI, so for my test, I inflated both of them to 14. I started the timer right when I pressed the power button and didn't turn it off until both paddle boards were filled.
That means the time it took me to unhook the pump from one board and reattach it to the other one is also included in the time. Note both of the paddle boards are exactly the same.
Even in the heat, the Outdoor Master "Shark" did surprisingly well. It only took 13 minutes to get both boards to 14 PSI and I never saw any overheating warnings.
That being said I think two ISUPs is pretty much the limit for this SUP pump especially in direct sunlight on a hot day. You could probably do another one but it would have to be in cool temperatures and in the shade.
See Also: Best Inflatable Paddle Boards (ISUP) for Beginners
All-in-all I think the Outdoor Master SUP pump (click to view on Amazon) is fantastic.
So far it's been working as advertised and I'm really impressed with how quickly it can inflate a paddle board. I can't imagine how fast it would be able to inflate something like a pool floatie or a towable boat tube. It's also easy to understand and use which I think is important for any outdoor product.
I love the deflation option. My second least favorite part about paddle boarding is having to deflate the boards so I can pack them up and go home.
Normally, the ground is rocky and dirty, and to deflate the paddle boards I have to roll them and unroll them a few times.
I also have to stand or kneel on them to get all the air out and I don't like having to put my weight on the board while it's sitting on sharp rocks. Now, all I have to do is release the air, let it deflate on its own for a second, then hook up the SUP pump, and it does the rest.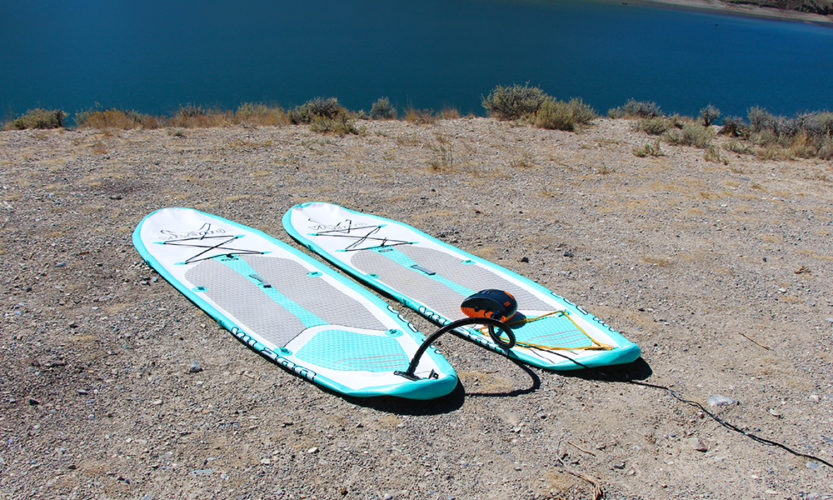 It really gets all of the air out too which means the paddle boards can be rolled up a little tighter which makes it easier to put them in their storage bags.
I highly recommended this SUP pump to anyone with an inflatable paddle board or any kind of floatie or tube. It's worth it to not have to take the time and use up all your energy pumping them up by hand.
What I Like
Easy To Understand & Use
Lightweight
Thick Air Hose
4 Adapters Included (Also 3 Gaskets)
Extra Long Power Cord
Built-In Fan
Two-Step Air Pump
Screen Is Easy To See In The Sun
Works Very Fast
Can Inflate Both My SUPs Without Stopping
What I Don't Like
No Included Carry/Storage Bag
---
Frequently Asked Questions About The Outdoor Master "Shark" SUP Pump
What do I do if my Outdoor Master electric SUP pump overheats?
If your SUP pump starts to indicate that it's overheating check the connection to both the pump and the ISUP to make sure there is no air leaking out. Air leaks will make the inflation process more difficult for the pump and could cause it to overheat faster.
If the pump shuts down due to overheating leave it plugged in with the motor off and let the fans run for a few minutes. Then unhook the hose from the SUP and restart the SUP pump. If you let the air flow through the pump freely for a few minutes this will speed up the cooling process.
Is the Outdoor Master Shark SUP Pump waterproof?
No. Never leave your SUP pump out in the rain, store it in wet areas, or handle it with wet hands.
What kind of plug does the Outdoor Master Shark SUP pump use?
12V only. You will only be able to use this SUP pump in a 12V outlet like the ones found in vehicles, power stations, or inverter generators.
Does "The Shark" SUP pump have a battery inside?
No, you have to have an external 12V power source to use it.
Have any more questions about the Outdoor Master Shark SUP Pump? Leave a comment below.