SUP vs. ISUP
Back in the day paddle boards were only solid and could only be enjoyed by people who had the space to store them and the vehicle to transport them around.
Now inflatable paddle boards are becoming more popular and more affordable than ever.
In this article, I am going to outline the different types of solid SUP's, ISUP's (inflatable paddle boards), and how they compare in regards to performance on the water and durability.
See Also: Best Inflatable Paddle Boards (ISUP) for Beginners
What is a Solid Paddleboard (SUP)?
There are three different kinds of solid paddle boards: soft tops, epoxy, and plastic.
They each have their strengths and weaknesses as well as price ranges.
Knowing the difference can help you decided on what kind is right for you.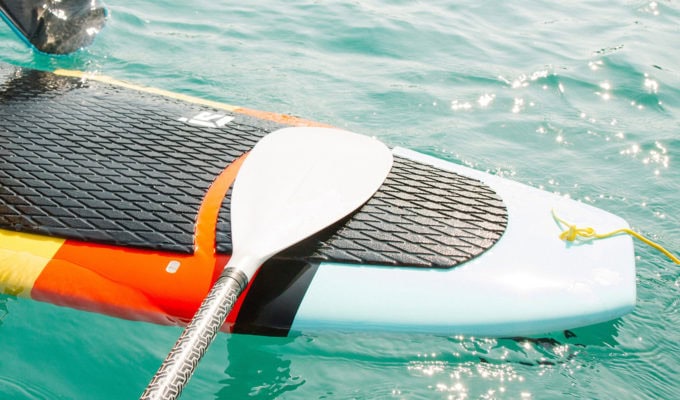 Epoxy Stand Up Paddle Board (SUP)
The traditional solid paddle board is epoxy.
Epoxy boards have an EPS foam core and are coated with layers of fiberglass with an epoxy resin finish.
On one hand they are the least durable of all the types of SUPs and the most difficult to transport.
On the other hand, they are the lightest and have the best performance of all the other boards.
See Also: Best SUP or ISUP Paddles for Stand-Up Paddle Boarding
PROS
Stable
Best for surfing
Fastest on the water
Lots of styles to choose from
High performance
CONS
Scratch and ding easily
Difficult to store and transport
Hard when you fall on them
Get damaged from being dropped
Expensive

Soft Top Stand Up Paddle Board (SUP)
The second type of SUP is the "soft top." Soft tops have the same EPS foam core as epoxy boards but have an EVA foam shell making the entire deck soft.
The bottom is ABS plastic which is what is used for legos and keyboard keys.
See Also: Best Slim Inflatable Life Jackets (PFD)
Soft tops can be much more affordable than epoxy board but some companies go the extra mile and add a fiberglass and epoxy layer underneath the EVA shell, making them very durable and still soft yet expensive.
They don't perform as well as epoxy boards but they are much softer when you fall and a little more durable, making them family-friendly.
PROS
Have an EVA foam over the entire deck
Very pet and family-friendly
Cheaper than other styles of paddle boards
More Durable than Epoxy
Softer landing if you fall
Stable
CONS
Difficult to store and transport
Heavy
Get damaged from being dropped
Low performance

Plastic Stand Up Paddle Board (SUP)
The third kind of solid stand up paddle boards is plastic SUPs.
Plastic SUPs have come out on the market a little more recently than the others.
They are incredibly durable but very heavy and are often hollow and fill up with water.
They don't perform very well, but they will last for a very long time making them an excellent choice for children or if you will have lots of people using them.
See Also: Best Waterproof Bluetooth Speakers For Boats, Kayaking
PROS
Extremely durable
Cheap
Family and pet-friendly
Stable
CONS
Heavy
Low performance
Hard when you fall
Difficult to store and transport
Can fill up with water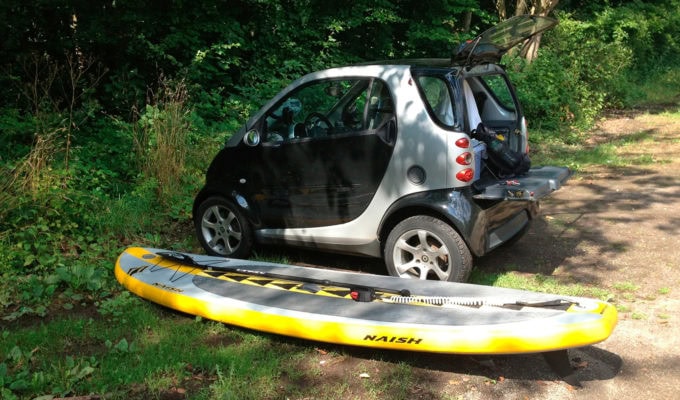 Inflatable Stand Up Paddle Board (ISUP)
ISUPs are made of PVC and have to be inflated.
They are becoming very popular because they can be rolled up and placed in a bag and transported by any vehicle and stored almost anywhere.
They are also very durable and easy to patch. The main downside to them is you have to blow them up with either a hand pump or an electric pump.
See Also: Best Multi-Person Inflatable Paddle Board (Giant ISUP)
PROS
High performance
Durable, won't ding or scratch
Light
Easy to store and transport
Come in all kinds of price ranges
Lots of styles to choose from
CONS
Can be less stable than other types of paddle boards
Require a pump
Requires work to inflate
Can get leaks
---

How The Different Stand Up Paddle Boards Compare?
As far as overall performance goes epoxy paddle boards are still the best although inflatable paddle boards are a close second.
Epoxy SUP's sit more in the water making them more stable and faster, and they also have no give, so they are slightly more rigid than ISUP's.
When it comes to durability ISUPs beat epoxy paddle boards hands down.
Epoxy SUPs scratch and ding easily and need more care to keep them looking nice. Whereas ISUPs do not get dings and are hard to scratch, the only care they require is a quick rinse and to be completely dry before storing away.
Soft tops and plastic paddle boards are comparable as far as performance goes and ISUPs beat them every time.
See Also: Best Inflatable Yoga Paddle Boards For Everyday Use
The average soft top weighs around 50 lbs, and a plastic board weighs approximately 40 lbs but can fill up with water and become even heavier.
ISUP's weigh about 18-22 lbs and are much easier to maneuver and control on the water.
If you are looking for performance I would rank them: Epoxy, ISUP, Soft top, then Plastic.
If you are looking for durability plastic comes in first, then ISUPs, soft tops, and last in line epoxy.
If you are still questioning the durability of inflatable paddle boards check out this video made by the Red Paddle Co. where they show the durability of their boards.
The style that has great performance and durability is ISUPs which are getting better every year. Someday they may even become advanced enough to beat epoxy boards.
Have any questions about Solid vs Inflatable paddle boards? Leave a comment below.