Why I Love My Inflatable Paddle Board At The Lake
A few years ago I decided to purchase my first inflatable paddleboard, ever since then I've not gone to the lake once without it.
I love being able to walk past the crowds on the beach and head out to the serenity of the lake.
Not only is it great for paddling around the lake, more often than not I find myself using it just to lay out in the sun as I drift around on the water.
The kit that came with it has been all I need, and the way it folds up and fits in a bag is not only convenient but it easily fits in the trunk of a car.
See Also: 10 Things To Know Before Buying An Inflatable Paddle Board
When purchasing my inflatable paddleboard I was overwhelmed by the sheer number of different types of paddleboards that are out there.
Things like width, length, thickness, material, fins, and hull type, to only name a few, all play an important role in what activity you intend on doing with your paddleboard.
In this review, I'll give some of my suggestions as to which boards are best for chilling on a lake.
Note: Scroll left/right to view all products in the table.
Best Lake Paddle Boards Reviews & Info
The SereneLife inflatable paddleboard has all the key components to being the perfect lake board. Its 10-foot length offers stability and fits in the all-around use category.
Although it's one of the more narrow paddleboards on the list its 30-inch wide deck offers plenty of space while giving it a slight edge on paddling performance.
Also taking into account the 3 fins set up you will have no problem getting where you need to. It's 6 inches thick when inflated which helps keep the board higher on the water.
The weight capacity is 275 pounds.
See Also: Best Waterproof Bluetooth Speakers For Boats, Kayaking
SereneLife also makes a compatible seat sold separately for this inflatable paddleboard if you prefer the option to stay seated while on the lake.
The board has a soft, non-slip deck to help with learning to stand and cushions the occasional fall.
The nose has a 4 D-link bungee system which is useful for storage of the paddle when not in use and whatever else you may need.
It also has 5 more D-links located on the sides and back of the deck used for securing the optional seat or extra storage.
The inflatable paddle board comes as a kit that includes the board, a coiled ankle safety leash, adjustable oar paddle, manual double-action air pump with built-in psi gauge, a repair kit, and a backpack/storage bag.
I recommend the SereneLife Inflatable Universal SUP for people who are looking for a fun, budget-friendly board for a day at the lake.
Its all-around design and durability are perfect for children, teens, and adults making it great for families. It also comes with everything you need adding to the value of this board.
PROS
Great Entry-Level Paddleboard
Seat Compatible
Double-Action Pump
Budget-Friendly
---
The pointy shape of the nose on this inflatable paddleboard makes it better for faster travel and touring.
Measuring at 11 feet long, 32 inches wide, and 6 inches thick it offers great stability for heavy paddling.
The Atoll ISUP has 15 total D-links on the deck giving you great storage options. The nose has a 6 D-link bungee set up which is 2 D-links more than most boards.
Atoll advertises a stronger than military-grade double-layered PVC which not only makes it lighter and more durable, it also makes the board more rigid than most, therefore, more stable.
The weight capacity is 300 pounds and has been tested with weights up to 350lbs.
They added an extra handle on the tail for easier transport which is a great feature that is harder to find in other inflatable paddleboards.
This board has a 3 fin set up with a universal fin box, meaning you can use different lengths of fins and aftermarket fins on the removable center fin.
See Also: Best Slim Inflatable Life Jackets (PFD)
The kit includes a 3 piece adjustable fiberglass paddle with a nylon blade, a dual-action hand pump with gauge, a 10-foot poly flex ankle leash, and a mesh backpack with a waist strap.
I really like the look of the Atoll Inflatable SUP and if you want a premium board this is an excellent choice.
Although this paddleboard is a touring hybrid model it's very stable and is definitely suitable for any lake or reservoir near you.
PROS
15 D-Links
6 D-Link Bungee System
Seat Compatible
Made With Stronger Than Military Grade Dual-Layered PVC
Two Handles (Middle And Tail)
Included Paddle Floats
Backpack Has A Waist Strap
---
Another great all-around entry-level inflatable paddleboard, measuring 10'5″ Long x 32″ wide and 6″ thick, and has a maximum weight limit of 275lbs.
It has a 6 D-link bungee system, a handle in the middle, and a D-link on the tail.
Although the Roc is an affordable entry-level inflatable paddleboard, it's made with military-grade quad-core PVC, making it lightweight (17.5 lbs), durable, and rigid.
See Also: Best Electric Pumps For Inflatable Paddleboards (ISUP)
It has a dual-layered non-slip deck pad helping to protect the board and add stability when standing on it.
Like many other paddleboards in this review, it has 3 fins and a removable center fin.
Included with the is a premium alloy paddle that floats, a leash, a manual pump with pressure gauge, a waterproof bag, and a backpack/ storage bag.
This is a family-friendly inflatable paddleboard that children, teenagers, and adults can all use with ease.
The wider width and length make it perfect for having extra gear, coolers, or even pets on the board with you.
PROS
6 D-Link System For Added Storage
Dry Bag Included
Military Grade PVC
Included Paddle Floats
---
The Pioneer all-around inflatable paddle board measures 10'6″ long, 31″ wide, 6″ thick, and weighs 21lbs.
It has a weight capacity of up to 240lbs. The board is made with double-layered military-grade PVC making it extremely durable and is even advertised to withstand being run over by a car.
Isle has really stepped up its bungee game this year. Compared to their earlier models this paddle board has 3 times as much bungee storage.
There's a 6 D-link bungee system on the nose, and a 4 D-link bungee system on the tail.
There is a handle on the nose and a rounded handle in the center for better grip and more comfort when carrying your board.
It has a 3 fin set up with a snap-in center fin for easy tracking and stability in flat water and small waves.
See Also: Best Multi-Person Inflatable Paddle Board (Giant ISUP)
Included with the ISLE Pioneer ISUP is a 3 piece adjustable carbon fiber paddle, Backpack/storage back with waist strap, a coil ankle leash, a dual-action hand pump with pressure gauge, and a repair kit.
PROS
Two Handles (Middle, Nose)
Backpack has a waist strap
2 bungee storage systems
Carbon fiber handle
Dual-action hand pump
---
The Cooyes inflatable stand up paddle board is a fantastic choice for lake lovers who want to cruise around and get some distance covered.
The board is 10 feet 6 inches long, 32 inches wide, and inches thick. It has a weight capacity of 330 lbs.
The nose and tail are both pointed for optimal paddling performance. If you aren't worried about maneuvering around as much and want to be able to go straight easier this is going to one of the best options in this review.
The only other ISUP that compares is the Atoll because it also has a long pointed shape.
The footpad is large and it covers most of the board. Even though this is technically a lake/all-around paddle board you can also use the Cooyes for surfing because it has a small kickpad on the back of the footpad.
Even though this is technically a basic ISUP it still is made to be incredibly durable with dual layered PVC. The exterior is made with UV resistant materials to help protect it from the sun.
There is a simple 6 D-link bungee system on the nose, a D-link on the tail, and a handle in the center.
Included with this lake ISUP is a paddle, a basic backpack/storage bag, a hand pump with built-in pressure gauge, a repair kit, a coil ankle leash, and a waterproof phone case.
The Cooyes Inflatable Paddle Board is a fantastic option for long lake adventures and even ocean paddleboarding.
It's made with quality materials, has the perfect shape for going long distances, and it's still very wide and beginner friendly.
PROS
Can Be Used To Surf
Great For Long Distance
Extra Wide For Beginners
Dual Layered PVC
---
This perfect lake paddle board by Drift is perfect for a day on the water. It's long, wide, and has an extra large foam footpad you can stay comfortable on.
It's 10 feet 8 inches long, 33 inches wide, and 6 inches thick.
The weight capacity is 250 lbs which is one of the only slight downsides to this lake ISUP. I wish it was just a little higher but it's still strong enough to hold a large person and all their gear.
The PVC is single layered which is both a pro and a con. It's not quite as durable as double layered PVC but the board weighs only 19 lbs.
It's going to be much easier to carry around than a large 4 layered ISUP and single layered boards are still very durable and long lasting.
On the deck, there is a 6 D-link bungee storage system, a D-link on the tail, and 3 handles on the nose, center, and tail.
Like most calm water ISUP's the Drift has 3 fins. Two small side bites and a long removable center fin.
Included with the Drift Lake ISUP is a paddle, a storage backpack/bag, a hand pump with built-in pressure gauge, and a repair kit.
The is a fantastic option for lakes.
It has a great hybrid all-around/cruisier shape and its extra large foam deck pad is perfect for relaxing on.
PROS
Lightweight Board
Large Footpad
Wide
Great For Beginners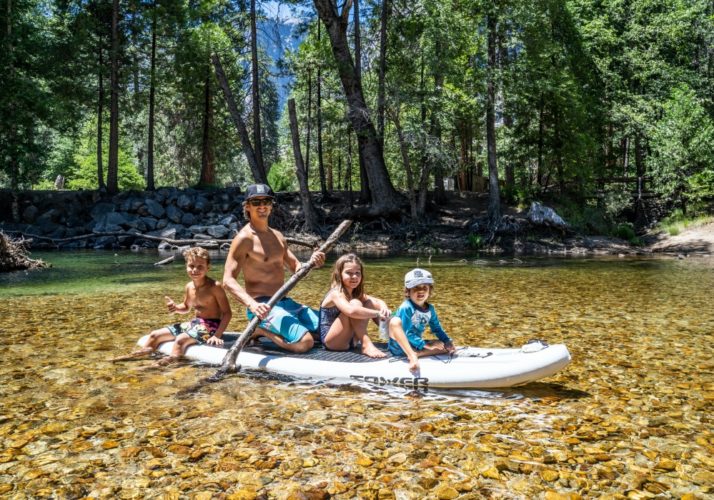 Conclusion & My Recommendations For Best Lake ISUP
Many of us have a lake or reservoir nearby and paddleboarding has become very popular over the years. It is for sure one of my favorite things to do in the summertime and I have never once regretted buying my board.
The world of paddleboards is large and there are more and more options every year. As far as being on a lake which is considered flatwater paddleboarding you can't go wrong with boards anywhere from 10-12 feet long.
The thicker the paddleboard the more stable it will be.
See Also: Are You Paddle Boarding Legally Under USCG Regulations?
Storage is also something to think about when it comes to lakes because much of your time will be spent out on the water exploring and floating around.
It can be really nice to have the option of bringing along a cooler or maybe even another person. The activities you want to do on your paddleboard are important as well.
Maybe you want a board more for paddling and exercise that can still be used to relax on, or maybe you are planning on doing some yoga poses out there. These things are all considered in my recommendations.
Best ISUP for Paddling – Atoll Inflatable SUP
This inflatable paddle board has the length and hull design of a touring board, it is slightly more narrow compared to the other options in this review meaning that it will be better for fast paddling and travel around the lake.
It still has all things needed to qualify as an all-around board but if fitness paddling is what you will be doing this is the best option for you.
You can't go wrong with having a ton of D-links. You could store so much on it if you wanted to be touring all day and the dual-layered PVC means it's going to be really rigid and almost like using an epoxy board.
Best Board for Leisure –
By far my favorite thing to do with a paddle board on a lake is to paddle out away from the shore and the people, go for a little swim, and then just lay on it.
The Roc ISUP is long and wide making it easy to get back up onto from the water and long enough to lay on comfortably.
Its got the 6 D-link storage on the nose giving you space to bungee down your stuff.
The non-slip pad is really big too, making it more comfortable to lay on and also protecting more of the deck if you want to bring your dog.
All in all this inflatable stand up paddle board is really great for the lake.
What To Look For In A Lake Inflatable Paddle Board
Hull Type
The hull is the nose or front of the board. There are two main types: planing or displacement. The planing hull is rounded and is for activities like yoga, leisure paddling, whitewater, and surfing.
The displacement hull is pointed and triangle-shaped much like a kayak or a canoe. It cuts through the water making giving you more distance with every paddle.
It's great for touring or fitness paddling, you can go longer distances easier with this style of hull.
Board Length
You can find almost any length of paddleboard out there and each is for different reasons.
A basic rule is if it's under 10 feet it will be better for surfing and children. 10-12 feet will be for all-around, leisure, and yoga.
Boards longer than 12 feet are for touring, distance, and fitness paddling.
D-links
This list includes boards with all different numbers of D-links. Some have a 4 D-link bungee system, some have a 6 D-link bungee system.
There are D-links on the sides of some boards making them compatible with seats which is important if you would like the option of having a seat.
The more things you want to bring with you the more D-links you're going to want to secure items to the board.
Board Width
Much like length, paddleboards come in all different widths. The more narrow boards are for going faster and more experienced riders. All the boards on this list are a little wider than the speed paddleboards making them better for all-around use and more stable.
If you are a bigger person you are going to want a wider board. If you are a smaller person you don't want one too wide for you.
All the boards on this list are 30-33 inches wide which should be, in general, good for all ranges of body types and skill levels.
Number of Fins
Most inflatable stand up paddle boards are going to have a long detachable center fin for easy storage.
The long center fin helps keep the board straight while paddling. When lake paddleboarding, a long center fin is really all you need.
It is becoming more common to have a 3 fin set up where there are 2 short non-removable "side bite" fins on either side of the removable long fin which offer more stability when paddling.
Having the extra smaller fins can be really nice if you are planning to paddle more with your board but not super necessary if you just want a board for leisure.
Frequently Asked Questions About Lake ISUP
What makes a paddleboard good for lakes and still water?
All-around boards with round noses, wide bodies, and a length between 10 and 12 feet make the best lake paddleboard.
You are looking for lots of stability, high weight capacity, and a board that will easily go straight in the water when you paddle.
All of the boards on this list have all of these characteristics and will be excellent for lakes and still water.
Can I fish from a lake paddleboard?
Yes, you can! You can fish from pretty much any kind of paddleboard but it all depends on your skill level and how much you will be fishing.
They make paddleboards specifically for fishing that are very stable and a lot of times are sold with fishing rod mounts. I've fished from my standard "all-around" paddleboard a few times. It's possible but not very comfortable.
I usually fish sitting down and cannot paddle with the line out. A fishing pole mount would make things way easier and a wider more stable board would make it possible for me to stand. If you're going to be fishing all the time I would suggest buying a board for fishing.
Do I have to wear a life vest when paddleboarding on a lake?
A lot of big lakes have rules about life jackets on paddleboards. Most of the time you have to at least have one with you and if you are under a certain age you have to be wearing it at all times.
I have a life jacket with me at all times. If it's a lake I'm familiar with and there's someone with me I will store the life jacket under the bungee storage on the paddleboard. If I'm somewhere I don't know very well or I'm alone I will wear the life jacket the entire time.
If you don't like bulky traditional life vests there are slimmer options you can try out, they even make lifejackets for dogs. Some dogs aren't great at swimming and if you are in the middle of the lake it can be even more dangerous for your furry friend.
Is it hard to inflate a paddleboard?
Pumping up an inflatable paddleboard is one of the most time-consuming and exhausting things you can do if you don't have a good pump.
A lot of times the cheaper boards save money by including a less expensive single action pump. These are the worst kind of pumps you can use to inflate a paddleboard.
It only releases air on the downward push and it can take up to 30 minutes of hard work to get your board up to the recommended psi.
If you want a better pump there are lots of options out there.
For hand pumps that will inflate a board much faster check out this review.
For electric pumps that will inflate your paddleboard from start to finish, check out this review for the different options out there.
Have any more questions about inflatable stand up paddleboards for lakes? Check out our FAQ page to learn more about paddleboards and accessories or leave a comment below.