Why Buy An Electric Air Pump For An Inflatable Paddle Board?
One of the significant downsides to owning an ISUP is having to inflate it. It can take 20 to 30 minutes of hard work before you can even get out on the water.
You can buy a small electric air pump like the ones used for air mattresses to help out, but if you want all the work to be done by a machine, it's going to take something heavy-duty.
See Also: Outdoor Master Shark Electric 20 PSI Pump Review & How To Use
There aren't a ton of options out there but we have done the research about the ones available so you don't have to.
Here is my review of electric high pressure air pumps for every budget and every inflatable paddle board, kayak, or raft owner.
12V Cigarette Lighter Plug
Multiple Adapters Included
Best
12V Cigarette Lighter Plug
Multiple Adapters Included
12V Cigarette Lighter Plug
Multiple Adapters Included
12V Cigarette Lighter Plug
Multiple Adapters Included
Note: Scroll left/right to view all products in the table.
Best Electric SUP Air Pumps Reviews & Info
The Serene Life electric paddle board pump is a battery powered, rechargeable powerhouse that will inflate your paddle board quickly so you can get out on the water in no time.
The first part of this high-pressure electric pump is the air hose. It's a 3.3 foot flexible tube with a built-in adapter that is made to fit most ISUPs. That means you don't have to have a Serene Life brand of paddle board to use this.
The pump has a 12V lithium battery which can be recharged using the included 12V plug (cigarette lighter) in your vehicle. There is also a regular wall outlet charger included as well so you can recharge the portable electric pump at home.
Note the pump will also work when plugged into the car or wall regardless of how charged the battery is. That means you can fill a bunch of paddleboards near your vehicle, then carry the pump with you to fill a few more next to the water.
The battery is large enough to fill around 2 inflatable paddle boards.
See Also: Best Hand Pump for Inflatables (Boat, Kayak, and ISUP)
There is an LCD screen on the top of the pump that tells you the charge left in the battery and the PSI of your ISUP. The pump has an auto shut-off which means the electric SUP pump will fill to the selected PSI then stop automatically.
There are buttons on top as well which are used to select the PSI, turn the power on/off, and turn on the built-in LED flashlight.
The pump will inflate from 0-16 PSI. Since the standard ISUP is filled to 15 PSI that's plenty of power.
Included with the electric SUP pump is the air hose with the ISUP compatible adapter, a 12V DC plug, a wall outlet plug, and a storage bag. The pump also has a built-in handle that can fold up or down for easy carrying when not in the bag.
The Serene Life Electric SUP Air Pump is a fantastic way to inflate your ISUP quickly and without any work.
It's made with quality parts and is easy to use. The built-in battery is a nice touch and makes inflating your paddle board easier since you can do it right by the water instead of in the hot parking lot.
And as an added bonus the pump deflates as well which means no more having to roll your paddle board up over and over again to get all of the air out before putting it away.
PROS
Deflation Mode
LCD Screen
Easy Operation
Auto Shut-Off
Can By Powered By Battery Or Plug
---
The thing that makes the Outdoor Master high-pressure electric SUP pump one of my top three choices for the best electric paddle board pump is its ability to cool itself.
That means you don't have to wait 15 minutes between inflating each board. Instead, it uses an inner fan to keep the parts from overheating so you can safely inflate up to 3 ISUP's in a row.
The body of the pump is a U shape with a built in handle one side and an LCD display with buttons below it. The LCD screen will tell you the current PSI of the ISUP and the buttons can be used to turn the electric pump on/off and select the correct PSI for the ISUP you are inflating.
The Outdoor Master pump has an automatic shut-off which means once the board has reached the selected PSI the pump will automatically stop.
It's a 2 stage pump which is one of the best kinds. The first stage puts out a ton of air until the ISUP reaches a high pressure that requires a slower more powerful airflow.
Once it switches to the second stage the pump will get noisier but it will be able to reach high pressures of up to 20 PSI.
See Also: 10 Things To Know Before Buying An Inflatable Paddle Board
This is not a battery-powered electric ISUP pump but it comes with a 12V DC plug (cigarette lighter plug). It can be powered by a vehicle, portable power station with a 12V outlet, or a generator.
Like many of the newer electric ISUP pumps the Outdoor Master has a deflation mode which is a fantastic feature since deflating an ISUP can be almost as time consuming as inflating one.
Included with the pump are 4 different nozzle adapters which means this pump can be used with more than one kind of inflatable (kayak, raft, float, ISUP). There is also the 12V plug which is used to power the electric pump.
The Outdoor Master High Pressure Electric SUP Pump is a fast, efficient, and fairly quiet high pressure pump that can be used for more than just paddle boards.
It doesn't need as much time to cool down between inflation which means it's a faster option if you have more than one inflatable and it will likely last longer because overheating is one of the main killers of electric air pumps.
The only downside is it doesn't come with a wall plug but that can be easily remedied if you get an AC to DC converter like this one (click to view on Amazon).
For a full review of the Outdoor Masters Shark Electric SUP Air Pump check out this post here.
PROS
Deflation Mode
Has Inner Cooling Fan
Can Inflate To 20 PSI
4 Different Nozzel Adapters Included
2-Stage Pump
---
The Tuomico high pressure electric air pump can reach a max PSI of 20 and is powered by your vehicle's 12V (cigarette lighter) plug. It's a small portable pump with a square plastic body and a built in handle that sticks out on top.
The handle is where the small LCD screen and button are located. The screen tells you the current PSI and the buttons are how you turn the pump on/off and choose the PSI you want the inflatable to be filled to.
The Tuomico has an auto shut-off which means it will turn off when it reaches the PSI you have previously selected.
It's a 2 stage pump which means the first stage will pump a high volume of air into the paddle board until it reaches a pressure that requires a lower more powerful pump that will slowly increase the PSI to the high pressure you have selected.
2 stage pumps are quieter than single-stage ones and don't overheat as easily.
There is a deflation mode which is a must have for inflatable paddle boards if you want to be able to put it away quickly.
Included with the electric pump are 6 different nozzle adapters that can be used to inflate more than just paddle boards. There is only a 12V plug included which means it can only be powered by your vehicle, a power station with a 12V outlet, or a generator.
See Also: Best Waterproof Dry Bag For Kayaking, Camping, Paddling
The Tuomico SUP Electric Air Pump is a great option for people who only need to inflate one or two paddle boards or a few other high pressure inflatables.
It's not as fancy as some of the other pumps on this list but it will get the job done and is as good electric ISUP pump overall.
PROS
6 Adapters Included
Two-stage
Deflation mode
Can Inflate To 20 PSI
CONS
No bag included
12V Plug Only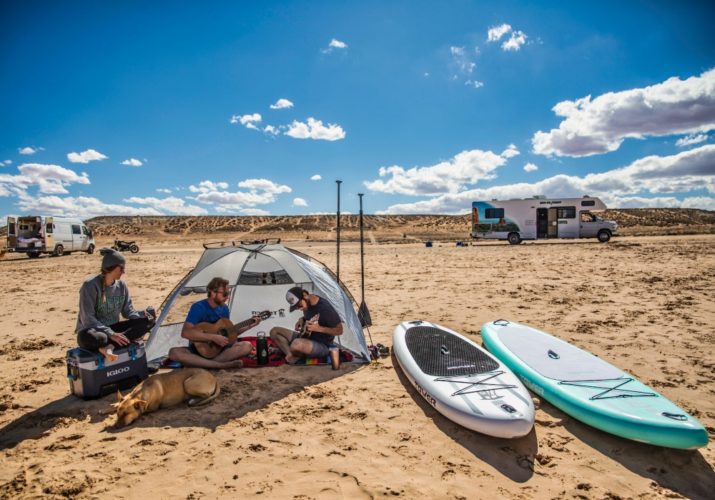 My Choice For Best Electric SUP Air Pump
I've been using the Outdoor Master Shark for about a year now to inflate and deflate both of my inflatable stand up paddle boards and so far it has worked very well.
Even when inflating both boards on a hot summer day I haven't seen it overheat or shut off.
The built-in pressure gauge is pretty accurate as well which is a nice bonus.
An electric high pressure air pump is so much easier to use than a hand pump and it makes paddle boarding that much more enjoyable. I love not having to think about the 30 minutes of trying to inflate my board before being able to get out on the water.
Even if you don't paddleboard very often the Outdoor Master SUP pump is still a great option because it can inflate more than just paddle boards. It comes with attachments for regular inflatable and even air mattresses.
It's a great multi-use tool and made with quality parts. For paddleboarders it's a must have in my opinion.
What To Look For In An SUP Air Pump
Number of Stages 
I've been talking a lot about pumps being a single or double stage in this article. Single-stage means the pump only has one speed, and they are often noisier than the two-stage because they have to work harder to reach high pressures at high volumes.
The two-stage pumps release more liters of air per minute during the first stage and then slow down during the second stage to reach higher pressure.
The lower stage means is quieter. Then the second stage slows down, so the pump doesn't have to work quite as hard when the pressure starts to get higher
Tips For Using An Electric SUP Air Pump
Keep your car running
When using an electric pump that is plugged into your car or directly to its battery make sure to have the engine running.
This increases the power supply to the pump to speed it up and also makes sure your battery won't go dead.
Hold the connection between the hose and the board when inflating
A lot of companies recommend this with their pumps. When in use they vibrate a lot and sometimes the Halkey-Roberts connection between the hose and the boards' valve can shake loose.
This is very common with electric pumps. All you have to do is hold it with your hand to make sure it stays secure.
Let it rest
If you are inflating more than one board be sure to let your pump run for a minute while not connected to a board to help it cool or even turn it off for up to 30 minutes.
It's especially important if you are in the sun and the high temperatures. Doing this will not only keep the pump from burning out it will also help make it last longer and keep it working at full capacity.
Be sure to read the instructions that come with your pumps, so you know the recommended procedure.
Don't Like What You See?
If you don't want to spend a lot of money or don't think an electric pump sounds right for you there are high-quality hand air pumps you can buy.
Normally an inflatable stand up paddle board comes with a hand pump and a lot of times it's a slow single-action one.
You can buy much faster, better hand pumps to make the inflation process of your paddle board easier that require no electricity and don't break the bank.
Have any questions about electric ISUP pumps? Leave a comment below.